Year 2 visit Addenbrooks Hospital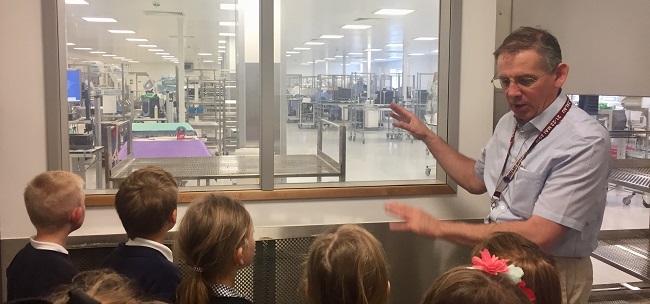 The day started off with the 6- and 7-year olds impressing their CUH volunteers from the off with their Working in a Team skills as they were set a warm-up challenge to build a tower made up with the children's shoes only. The student teams were then set the real challenge of taking on the role of event planners and come up with a fundraising event where the proceeds would go to the hospital. It was important for the aspiring entrepreneurs to be Using Imagination but also Listening Carefully in order to find out about all the incredible work that goes on at the NHS.

Their research carried on through an extensive and very informative tour of the hospital, including a little bit of history in the museum area, but also a special visit to Sterile Services, which only people with a special badge can access!

Back in the room, the Chesterton students worked against the clock to plan for their events. They had to include elements of entertainment, choose the decoration, organise the food and drinks and create a range of colourful posters in order to spread the word about this good deed. Their posters then came in handy in their presentations as they were Aiming High to persuade the CUH adults that their event was the one to go to. It was so difficult to pick a winning team that the adults decided each team should be awarded a special certificate back at school for all the Essential Skills they have shown off today.